These days, when a new player bursts on the scene with a major label debut, the player is usually fresh out of music school and perhaps not all that versed in a variety of musics or working situations-the kind of experiences that season an artist.

Eric Allison is definitely an exception to that rule. While he's armed with both his bachelor's and master's in music, he's been a working pro for over 30 years. Allison lives in the music-rich Miami, Florida area and plays all the standard woodwinds-saxophones, clarinet, and flute-with authority and authenticity in such styles as mainstream, bebop, funk jazz, New Orleans Second Line, swing, and Dixieland. He may not give the word versatility new meaning, but he comes close.
Mean Streets Beat, Allison's debut for Contemporary Records (part of the Fantasy Records family), served as an excellent introduction to his talents: working with several ensembles-comprising such top talent as pianist/organist Dr. Lonnie Smith, saxman Turk Mauro, and bassist Phil Flanigan-Allison offered up ten lively mainstream jazz originals replete with melody, invention, and vitality. "His main calling seems to involve making a stomping, effervescent swing," commented one reviewer, "…[and] a superb cooking feel."
After Hours, Allison's exemplary followup, is a concept album that sprang from the suggestion by executive producer Bob Weinstock that he include an updated arrangement of Avery Parrish's "After Hours," which was a huge hit for the Erskine Hawkins Orchestra in the 1940s. Allison then "wrote like a maniac for a couple of months," producing nine new compositions heard on After Hours. The CD reached #20 on the Gavin Report for national radio airplay (jazz format) in 1998, and stayed on the chart for 13 weeks.
Weinstock, renowned as the founder of Prestige Records, said he had decided to launch Allison because "I was so impressed with him. This guy has his roots in mainstream jazz and he's a swinger."
Born March 7, 1951 in South Bend, Indiana, Eric Allison at first had little regard for records his father played: big band music of Count Basie and Stan Kenton, traditional jazz from Louis Armstrong and Bob Crosby. But when he was in junior high school in Sarasota, Florida, Eric says, "I got hit by the jazz virus, never to be cured." Soon, he was listening to early jazz recordings by brassman Armstrong, clarinetist Irving Fazola, and tenor saxophonist Eddie Miller. "Instead of buying the newest music, I wanted to know where jazz came from," he says.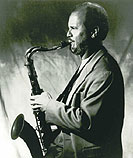 Allison took up alto sax in junior high, and was mostly self-taught. Then, while in high school, he discovered the music of bop giant alto saxophonist Charlie Parker, who became Allison's idol. Serious saxophone studying waited until Allison entered Northwestern University near Chicago. There, he came under the tutelage of legendary saxophonist Fred Hemke. Allison also studied jazz with Joe Daley, a great tenor saxophonist from Chicago.
After graduating from Northwestern with a bachelor's degree in Music Education, Allison returned to Florida, and entered the jazz studies program at the University of Miami, where he earned a master's degree in Jazz Pedagogy in 1975. Since that time he has been a leading performer in the top jazz clubs and concert venues in South Florida, and has worked with a virtual litany of jazz greats both past and present, including Zoot Sims, Ira Sullivan, Paquito d'Rivera, Richie Cole, Scott Hamilton, Curtis Fuller, Eddie "Cleanhead" Vinson, Nat Adderly and Buddy Tate.
Allison's talents as an arranger and performer for other artists' concert and recording projects are in great demand. In addition, he leads a variety of different bands for corporate events (IBM, General Electric, Pepsi-Cola), institutional functions (University of Miami, Orange Bowl Committee, Miami Dolphins), and private parties. These include the Wonderland Swing Band, a horn-heavy group performing the repertoire of both the big bands and the 'jump' tunes so popular in the recent Neo-Swing revival; and a Dixieland band playing authentic New Orleans jazz. A recognized expert in the evolution of jazz, Allison has taught jazz history at the University of Miami.
In 2000, Eric married well-known Canadian jazz singer Cheryl Fisher. The two work extensively together and now divide their time between the United States and Canada. Eric's recent appearances have included the Montreal Jazz Festival, the Blue Note in New York City, the Lionel Hampton Jazz Festival, the Floating Jazz Festival aboard the S/S Norway and S/S Masdam, the Jacksonville Jazz Festival, the "JAM" Festival in Indianapolis, the TD and C-Jazz Festivals in Calgary, the Jazz City International Festival in Edmonton, the Florida Philharmonic under the direction of Peter Nero, soloist with the new Gene Krupa Orchestra, and the Montreal Bistro in Toronto. Beginning in 2005 he has toured Japan and Korea annually with pianist Eddie Higgins, and since 2007 has been the Music Director of the Gold Coast Jazz Society Band.
As a busy, committed working musician, skilled jazz composer, and innovative recording artist, Eric Allison is bringing his talents to the world at large—to the pleasure, no doubt, of an ever-widening audience.
Contemporary Records, December, 1997, updated March, 2009